NEST [2021-2023] AAL-2020-7-227-CP
Neurorehabilitation Ecosystem for Sustained Therapy

[NEST]
There are more than 15M cases of stroke every year, of which about 40% require motor and cognitive rehabilitation, leaving 6M new patients requiring treatment every year and more than 33M chronic patients worldwide. This massive incidence puts great pressure on healthcare systems.
By leveraging widely distributed technologies among the population, such as smartphones, smartwatches, PCs, and laptops,
NEST provides affordable and scalable science-based solutions for tele-rehabilitation.
NEST will improve long-term recovery while allowing hospitals to reduce the length of outpatient treatment and its associated costs of infrastructure and staff, while maximizing the treatment capacity of therapists.
NEST will scale and generalize to provide treatment for several patient groups such as COVID-19, post- ICU, cardiovascular, trauma, multiple sclerosis, Parkinson's, cerebral palsy, Alzheimer's patients, and the elderly population in need to fight muscle weakness and cognitive decline.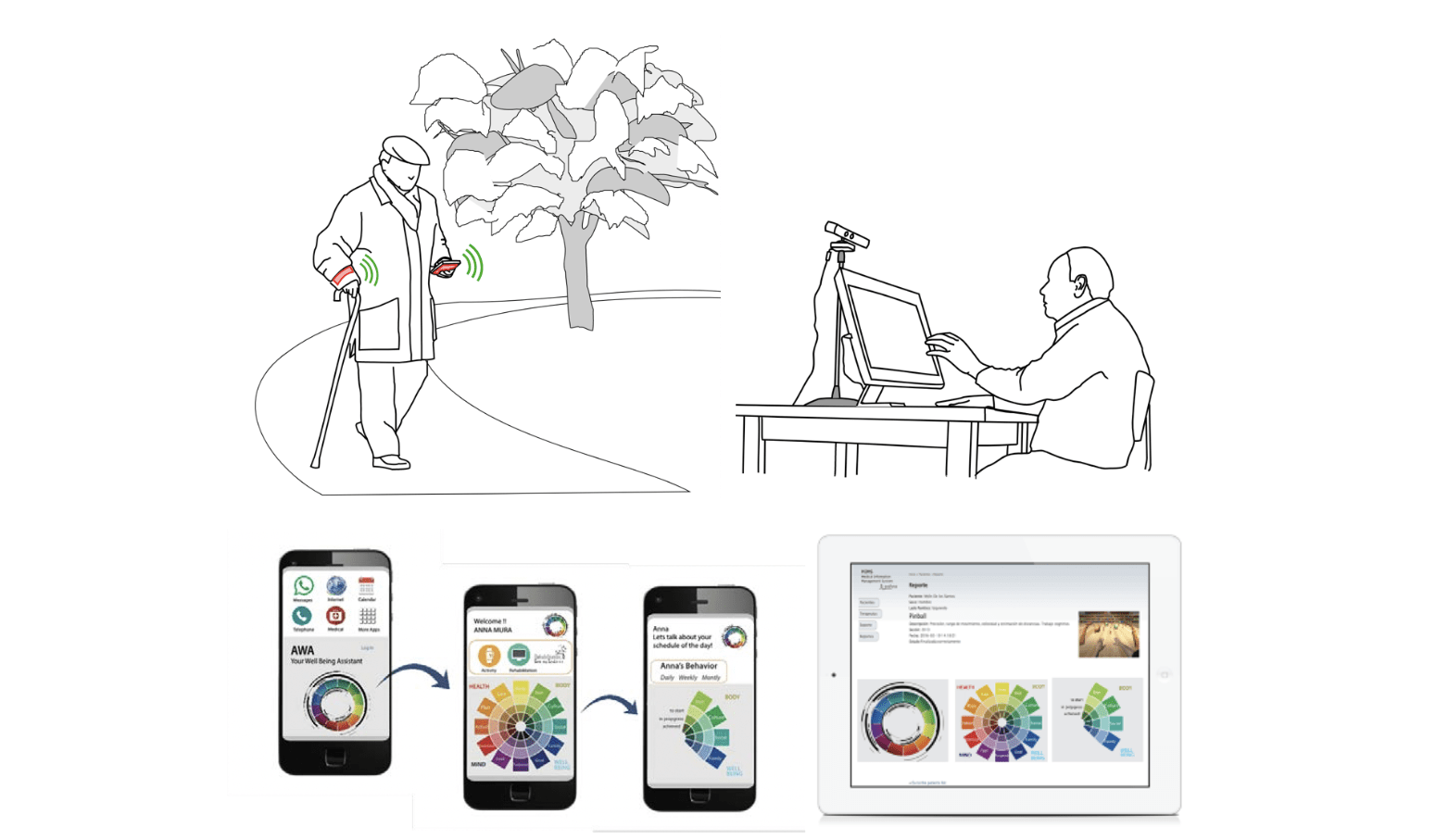 The NEST platform includes the RGS@Clinic (up right), the RGS-Mobile (smartphone), the RGS-wear (up left), the mobile AWA Coach interface (AWAtar) (mock-up on the bottom-left) and the Medical Information Management System (MIMS), where carers or health professionals can follow the wellbeing of the user (mock-upon on the bottom-right).
Via its AI-based architecture, the AWA Coach provides autonomous personalized health advice, monitoring, and interventions in the form of structured and unstructured motor and cognitive tasks in a physical and social context. The participant can interact with the NEST coach system to get updated on personal health and well-being states, as well as get recommendations.
The driving concepts of NEST are environmental enrichment, embodied interaction and proximal and distal goals serving wellbeing through the execution of Activities of Daily Living. 
About the project
Application areas addressed: Health & Care, Vitality & Abilities, Information and Communication Neurorehabilitation Ecosystem for Sustained Therapy
Name of the project coordinator: Paul F.M.J. Verschure
Name of the project co-coordinator: Belen Rubio Ballester, Anna Mura
Contact details: paul.verschure@specs-lab.com, amura@ibecbarcelona.eu
Project duration: 30 months
Envisaged starting date: 01/07/2021
Consortium Members
Fundacio Institut de Bioenginyeria de Catalunya  Spain
Sint Maartenskliniek  The Netherlands
Fundació Hospital Universitari Vall d'Hebron – Institut de Recerca  Spain
Istituto Nazionale di Ricovero e Cura per Anziani INRCA, Italy
Hankamp Rehab BV. The Netherlands
Eodyne Systems S.L. Spain